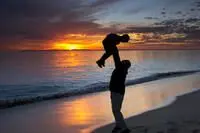 We all as parents want to be the best parents we can be. We all want to know that magical thing to say to make their children feel better or to break through the wall of resistance that is being a teenager. We have all felt great successes and joys when we get parenting "right" and have felt like complete failures when we mishandle their behavior or emotions, when we feel like we are at work too much, and present too little, when we snap out of frustration, or provide too little time and affection. This is a normal part of parenting.

The good news is that just by reading this page you are showing the interest in being the best parent you can be. This is not to say that the parent you are at this time is "not good" or "not enough" but that there is something inside you that is calling for you to explore being and even better parent. Let's face it; it is not easy to consistently connect with any child. They have mood changes, attitudes, ups and downs, and good and bad days just like you and I do. But there is a way to learn your children on a different level and connect with them in meaningful ways that will build a lasting connection for years to come. Together we can work to understand and be intentional in our parenting to build wonderful things into our kids and a lasting relationship that will bridge the difficulties of their adventure of maturing.
And the best news is that you are already the expert on your kids. For who really knows them better than you do? So allow me the opportunity to use the foundation you already have and build upon it to forge a lasting emotional bond with your children. One that allows you to be their safe haven through the difficulties when the world brings them to tears. One that allows you to be their biggest cheerleader and share in the joy of their triumphs. Both will come! And now is the time to learn to position yourself in that vital place that only you can fill for your children.
Together we will develop a plan for being intentional in their lives and implanting the most important values and foundation for them to build their lives on. So come on, be their hero! Be the parent you were meant to be. You can be the superstar parent, you can do it! And I can help you get there!